So this morning as I was getting ready for the gym, I noticed that Olivia was unusually quiet. Which of course troubled me. I yelled for her a few times to get downstairs, and when she didn't respond I went looking for her.
As soon as I walked into her room, I was hit with the smell of nail polish. Pretty sure that you can see where this one is going…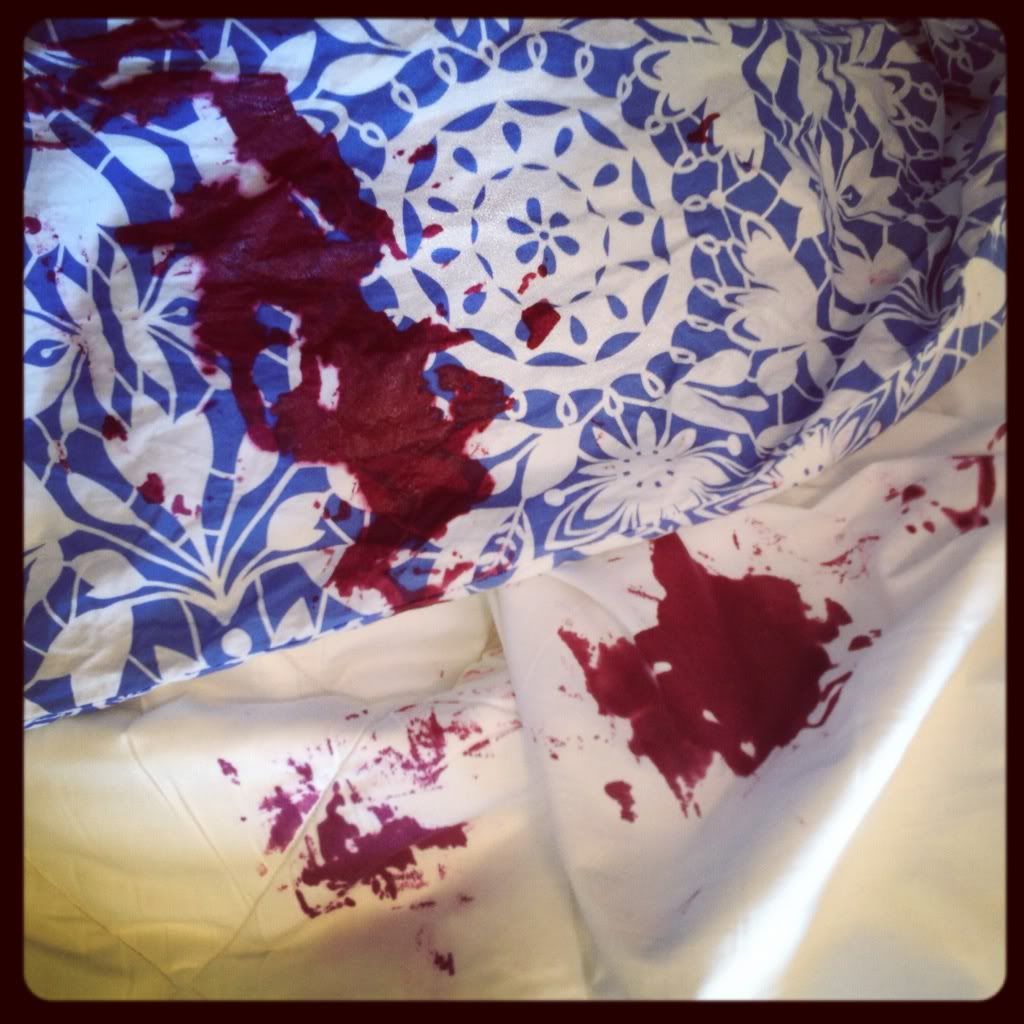 Yep, she decided to take it upon herself to go into my bathroom top drawer, take out the darkest red sparkly polish that she could find, take it into her bed, and attempt to give herself a manicure. As you can see, it literally looked liked someone had been bludgeoned to death in her bed.
"I was painting my nails like mommy."
The carnage? Her (basically brand new) duvet cover, comforter, top sheet, fitted sheet, mattress pad, and pillow cases. Not to mention her pants and top. I wasn't sure if I wanted to scream, cry, or kill her. So I screamed, then cried, then used nail polish remover all over her body as SHE cried, then took her to kids club at the gym and dropped her off so I escape before I went completely insane. I tried rescuing the bedding and whatnot when I got home, but no amount of nail polish remover is going to clear up all of that red – it just runs all over the place when you add remover to it. It's actually pretty amazing how much polish is in one of those little bottles.
The kicker?
We had to go to Target, because clearly she needs new sheets and I am not buying her any fancy bedding after all of her shenanigans. When we got there she started yelling that she didn't like her clothes (because I refused to put her in a dress after this morning's nightmare) and stripped practically naked in the middle of the store. And then screamed that she was naked because she didn't like her clothes the ENTIRE time I was in the store trying to replace her bedding. I was so that mom. You know, the one we all look at and we're glad that we're not in their shoes. Except I was in her shoes and there was nothing that I could do about it because I had to get the darn sheets for her bed.
Try not to be jealous of my awesome day.
The end.